Santa Cruz Sprinkler Repair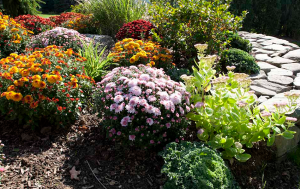 Are you looking for a customized system that will provide you with lush plants and soft, green turf while saving you money on your monthly watering bill? Our Santa Cruz sprinkler repair team can deliver a custom built system for about the same cost as a one-size-fits-all version offered by a major retailer. This is important because when you first get into the market there will be two distinctly different options to choose from – the one size fits all modular system and the custom designed model. At first glance, the pricing on the one size fits all system will look great, that is until you look at all of the "add-ons" that will be required to do what you want to do. When you choose our expert team, our Santa Cruz sprinkler repair techs and installers will survey your land and section it off into zones. Each of these zones will have distinct watering needs. Our techs will then develop a preliminary plan based on the drainage of your yard so that the correct amount of water gets to each zone without wasting any water. This often involves multiple types of sprinkler heads (rotary, spray, mist and even drip lines) put at unequal intervals. This is in stark contrast to the one-size-fits-all model that places spray heads every so many feet no matter what type of plants are there.
What our clients say!
If you are thinking about reapiring your system by yourself - don't. Leak Professionals came in and fixed mine in a single day ater I wasted two weekends and over $100 trying to do it myself.

~ Bill Grater ~
I've only lived in Santa Cruz for about a year and didn't know the first thing about sprinkler systems. Good thing I found these guys. My yard went from brown and dying to a beautiful green in just a few weeks

~ Pauline McFeilder ~
On a scale of 1 to 10, I'd give them a 9. They showed up on time, fixed everything and didn't charge me for any extras. If I have another issue, I'll be calling them again.

~ Jim Zimmerman ~
A pop up head in my front yard was shooting up like a fountain. I didn't know what to do. I called Leak Professionals and they scheduled me for an appointment two days later. They showed up and fixed the problem. Enough said.

~ Joe Derecho ~
Sprinkler Syatem Installation Services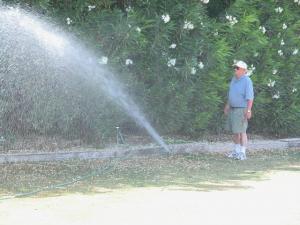 Our sprinkler installers will also take into account the pressure of the water delivered to each individual spray head. This is very important when it comes to planting beds as a hard spray can knock off delicate flowers and destroy the entire reason for the planting bed in the first place. Every head will be calibrated from direction, flow rate and pressure so that it achieves the maximum irrigation in the most efficient time. This type of system optimization does require a controller unit (something that is often quoted as an "add on" for the one-size-fits-all systems) that will allow you to set-it and forget-it. Once the program is put into the controller all you have to do is sit back and enjoy your lawn.
Santa Cruz Sprinkler Repair Services are our Bread and Butter

Our Santa Cruz sprinkler repair team does far more than residential and commercial installations, in fact a majority of our business comes from preventative maintenance and minor repair work. Our sprinkler repair techs are some of the best trained and most experienced in the area. Call our Santa Cruz sprinkler repair techs to see how professional sprinkler service is supposed to work. We'll schedule you for a site evaluation and get you started on your way to a leaner, greener lawn today!